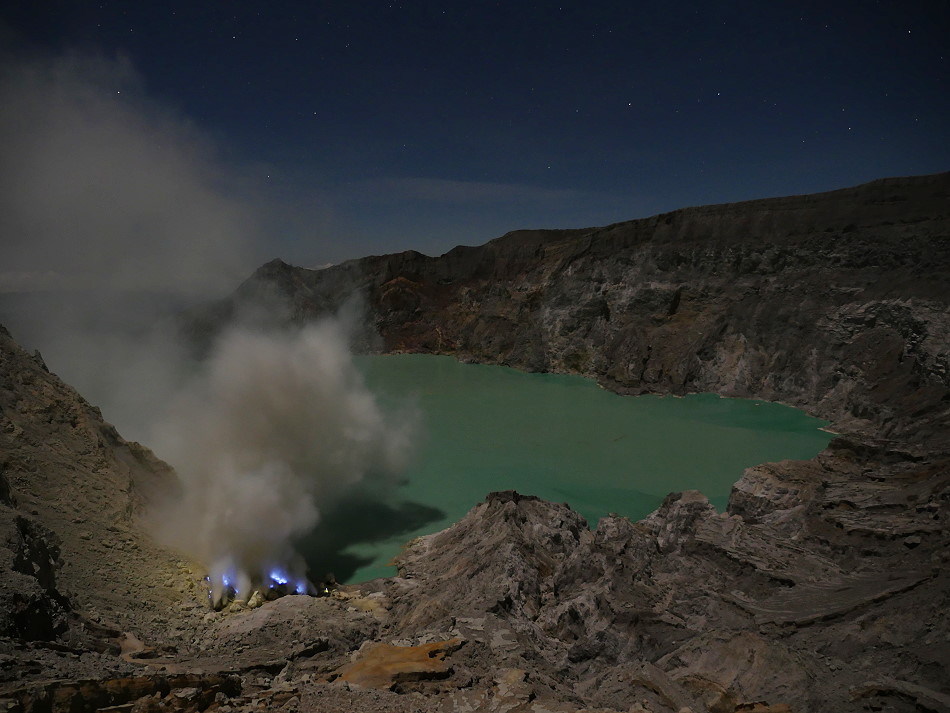 The Kawah Ijen is a stratovolcano in the east of Java. It formed in a caldera with a diameter of 16 km. With this diameter the collapse crater belongs to the large calderas. In addition to Kawah Ijen, 8 other volcanoes were formed in it. The caldera floor forms a plateau, the so-called Ijen Plateau. The volcanoes of the Ijen Plateau belong to the highly explosive subduction zone volcanoes. In connection with heavy rainfall or phreatic eruptions of the Kawah Ijen, lahars have occurred here in the past. Numerous people in the neighbouring villages fell victim to these mudflows.

The Kawah Ijen is mainly known for its sulphur mining. In the almost 300 m deep crater, there is not only a 180 m deep acid lake, but also a mighty fumarole field. Gas temperatures between 195 and 240 degrees Celsius were measured at the fumaroles. In extremely hot periods, the temperatures can rise up to 600 degrees. Then the volcano is about to erupt. Usually the temperatures are high enough to cause the normally liquid sulphur to burn, so that it has to be extinguished regularly. At night you can see this unique sulphur fire. It manifests itself in sapphire blue flames. If they are not extinguished, small streams of liquid sulfur can form and flow into the crater lake.


The fumaroles produce up to ten tons of sulphur gas daily on the Ijen. The gases are conducted through a pipe system that is cooled with water. Liquid sulphur condenses out of the gas, which becomes solid below 115 degrees. Thus the sulphur is deposited in thick layers at the end of the pipes. The sulphur is then broken down in the simplest possible way: The miners break it out with iron rods and carry it in baskets out of the crater - to the loading station three kilometers away. There the sulfur is weighed and loaded. The sulphur workers deliver up to 70 kg of sulphur per load, for which they receive around 2.50 euros. With a lot of luck they manage 2 transports per day.

The Ijen is a dangerous volcano: phreatic eruptions from the bottom of the acid lake occur again and again. In 1976, 49 sulphur workers died in such an eruption.

The acid lake has a pH value of 0.2. Especially phreatic eruptions release a lot of acid gases which cause great damage to the vegetation. And of course the corrosive fumes also damage the miners' lungs.